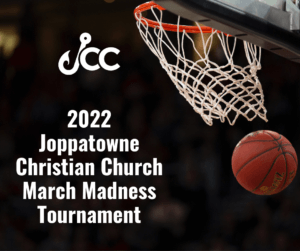 March Madness
Important Links
ESPN.com Group (Password is Trimble)
Contact Form  (So I know how to get you your prize)
How to Play
Follow this link and click the red button that says "Create a Bracket Now!"

Log in or sign up for a new ESPN.com account

Once the bracket is set (8 PM on Sunday 3/13), pick the winners of all of the games in the entire tournament. (You can use the same link above to get to the group)

After you have created a bracket, please also fill out this form so I can contact you directly after the tournament if you win so I can get you your prize!
Prize / Eligibility Info
One entry per person

Entries are due at 11:59 AM on Thursday, March 17th, 2022

The prize is a $50 gift card to the Joppatowne area restaurant or grocery store of your choosing

This contest is run by Adam Shellenbarger, the preacher of Joppatowne Christian Church. It's just for fun so please keep it fun. If you need to contact me directly, e-mail me at [email protected].